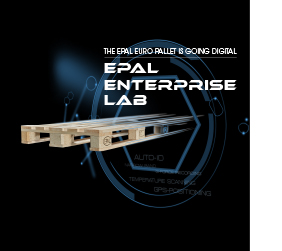 On course to the "intelligent" pallet – Half time at EPAL Enterprise Lab
At the end of 2017, the EPAL Lab was launched at the Fraunhofer Institute for Material Flow and Logistics (IML) in Dortmund. Logistics experts from EPAL faced a team of experts from the packaging and retail logistics field in addition to researchers with a focus on IT and software development. Together they set out to breathe "intelligence" into the wooden pallet and to mine "the gold of logistics data". A year and a half and several user workshops later, the concepts are less hazy, and the results and applications have become all the more specific. First of all is the serialised EPAL pallet and the opportunities resulting from this, because detailed goods and load-carrier traceability using identification and tracking help to make the whole supply chain more transparent and more efficient. What is more, all the information as well as the position and temperature profile can be retrieved using trackers via a web platform in real time. The platform is the real innovation which turns the pallet from a load carrier into an information carrier.

According to Dr Volker Lange, Head of Department, Packaging and Retail Logistics at the Fraunhofer Institute, the project itself remains very complex: "It is not just a case of deploying technology." It's not just about the most effective sensor or the size of the battery, but more particularly about data protection and data security and who has access to which data. The Lab will conclude at the end of 2020 and by then, the digital world will have changed again.

Learn more about the EPAL Enterprise Lab and visit EPAL Deutschland in hall 6, stand 235, at the FachPack in Nuremberg, September 24 to 26, 2019.